The CPD's latest deadly use of force leaves little wonder why some hope for a future without cops.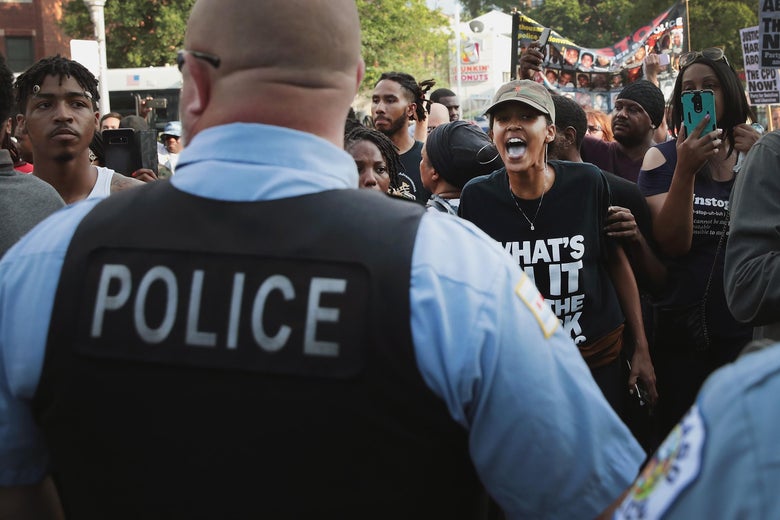 Early Saturday evening, a Chicago police officer shot and killed Harith Augustus, a 37-year-old black American barber working in the neighborhood where the police had confronted him. The Chicago Police Department released body-camera video that shows Augustus becoming agitated after being surrounded and grabbed by officers. As he attempts to flee and appears to reach for a gun in his waistband, an officer begins firing on him, and Augustus falls. In a statement, the CPD said that Augustus—who had a firearm license but no permit for concealed carry—had initially been approached for "exhibiting characteristics of an armed person."
The bodycam footage of the confrontation was released Sunday morning, after a night of protests that began when an agitated crowd of nearly 100 gathered at the scene of the shooting not long after Augustus was killed. A series of scuffles broke out between protesters and responding officers who later began assailing some in the crowd with batons as bottles and rocks were thrown at them. The video was released alongside official talk about the need to jump ahead of misinformation impugning the conduct of the CPD officers who confronted Augustus. "We can't have another night like that," Chicago Police Superintendent Eddie Johnson told the press. "If we don't get in front of things, the narrative will spin out of control."
In truth the CPD lost the benefit of the doubt some time ago. There are, indisputably, a lot of bad apples in the Chicago Police Department. This has always been so. Investigators have spent years uncovering the 20 years of torture and abuse by officers under the command of Jon Burge, who sought confessions from more than 100 black men through suffocation and genital electrocution with cattle prods, among other methods. Another infamous cadre of officers, the Skullcap Crew, has been accused dozens of times of physical and sexual abuse and harassment in Chicago's old housing projects and has been named in more than 20 federal lawsuits. All but one Skullcap Crew member are still active on the force today. In November, Cook County prosecutors dropped 18 convictions for 15 men arrested under the authority of Ronald Watts, a CPD sergeant who routinely ordered his subordinates to plant drugs and falsify police reports. Joshua Tepfer, an attorney with the University of Chicago Law School's Exoneration Project representing 63 other men who say they were also wrongfully arrested by Watts, told the New Yorker's Jennifer Gonnerman that hundreds more may have been framed, in a story published by the magazine in May.
The malfeasance within the department goes well beyond the activities of isolated crews of rogue officers. In 2015, the Guardian reported that over the previous decade, more than 7,000 people—6,000 of whom were black—had been detained under allegedly abusive conditions at a secret warehouse in the city's Homan Square neighborhood without access to attorneys or public knowledge of their whereabouts. In 2016, the CPD revealed that 80 percent of the dashboard cameras equipped by its squad cars could not record audio and that 12 percent had experienced "video issues"—technical problems caused, they said, by "operator error or in some cases intentional destruction." "Chicago Police Department officers stashed microphones in their squad car glove boxes," DNAinfo Chicago's Mark Konkol and Paul Biasco wrote in a review of dashcam maintenance logs. "They pulled out batteries. Microphone antennas got busted or went missing."
Dashcam footage, with its audio missing, proved crucial to adjudicating the fatal shooting of Laquan McDonald, a 17-year-old black teen, in 2014. The video—released in the fall of 2015 after a monthslong legal battle between a local journalist and the city—showed that McDonald had been shot 16 times as he was walking away from officers. McDonald had been accused of lunging at responders in incident reports written by three CPD officers set to face trial later this year for conspiracy, obstruction of justice, and official misconduct in their attempt at a cover-up.
The McDonald shooting triggered an overdue Department of Justice investigation into the CPD's practices. The DOJ's report, released in January 2017, charged that the CPD routinely violated the Fourth Amendment with its deployments of force, including "numerous incidents where CPD officers chased and shot fleeing persons who posed no immediate threat to officers or the public" and "tactical decisions that unnecessarily increase the risk of deadly encounters." The report also examined and criticized several nonlethal encounters including the tasing of a 16-year-old girl who was asked to leave school for using a cellphone and the tasing of a woman in a "mental health crisis" who had "stiffened" and stopped responding to verbal instructions. The report paints a picture of a department whose officers have been given free rein to terrorize and abuse black Chicagoans they happen to come across. This is particularly descriptive of officers who would pick up black children and teens in their vehicles for questioning:
We were told by many community members that one method by which CPD will try to get individuals to provide information about crime or guns is by picking them up and driving them around while asking for information about gangs or guns. When individuals do not talk, officers will drop them off in dangerous areas or gang territories. We reviewed a publicly available video that appears to capture one instance of an officer displaying a youth in police custody to a group of individuals gathered in a rival gang territory. The video shows CPD officers standing around a marked CPD vehicle with the back doors wide open and a young male detained in the rear. Officers permit a crowd of male youths to surround the car and shout at the adolescent. The crowd can be seen flashing hand gestures that look like gang signs and threatening the cowering teenager in the backseat.

[…] The video does not show any legitimate law enforcement purpose in allowing the youth to be threatened. Residents told us that this has happened for years, with several individuals recounting their personal experiences. A young black man told us that when he was 12 or 13 years old, he and his friends were picked up by CPD officers, dropped off in rival territory, and told to walk home. Another black teen told us that his brother was picked up in one location, dropped off in another location known for rival gangs, and told: "Better get to running."
According to the DOJ report, 98 percent of the more than 30,000 misconduct complaints that had been brought over the previous five years had not resulted in any penalties for the officers accused. And some of the complaints that had were resolved through "mediation" deals that allowed officers to acknowledge some level of misconduct in exchange for reduced penalties before the conclusion of full investigations into their behavior. Half of the mediated cases from 2013 to 2015 were cases of alleged excessive force or domestic violence. Of mediations in the case of domestic violence, the report noted that the practice "allows abusers to avoid meaningful punishment, which may empower them to continue the cycle of abuse."
As of April, the city of Chicago has fully implemented only 20 of the 99 recommendations for reform outlined in the DOJ's report. It's plausible that more progress might have been made under the terms of a federal consent decree with the department that would have given the city's reform efforts federal oversight. That's unlikely under the Trump administration. Attorney General Jeff Sessions ordered a review of existing oversight agreements for cities around the country last March, and he hasn't taken much of an interest in Chicago's policing beyond blaming the American Civil Liberties Union's anti–stop-and-frisk advocacy for the city's spike in homicides in 2016. Chicago will instead negotiate a consent decree with the state of Illinois, and the city has reached an agreement with the ACLU and various community and activist organizations that will allow those groups to provide input both during those negotiations and in the reform implementation process.*
It is plain that abuse—for Trump and most of his supporters—is part of the tool kit necessary to beat back the phantasm of "American carnage" or, at worst, the regrettable but inevitable consequence of brave and commendable police officers trying to do so. The president and his supporters argue that those who speak out against police violence and the racial inequities of the criminal justice system are by contrast too fixated on race talk to do anything about the violence plaguing their communities. This narrative both erases constant, dogged anti-violence work and activism happening within black communities—like the massive demonstration that shut down the Dan Ryan Expressway just over a week ago—and implicitly advances the idea that unrestrained state violence should be visited upon black people who are by implication lawless and untamed. Of course, the wanton lawlessness present in departments like the CPD—the sadistic violence, the codes of silence—make them rather similar to the gangs the law-and-order crowd wants so dearly to stamp out.
It should come as no surprise that criminal justice politics post–Black Lives Matter and post-Ferguson has given rise to activists who want to raze the framework of policing itself to the ground. In Chicago, a community of activists like Mariame Kaba and organizations like the Black Youth Project 100 have been driving forces behind a movement for police and prison abolition, advancing a vision of a future in which unarmed mediation, community-administered justice, and intensive efforts to fight poverty and inequality obviate the need for law enforcement as currently conceived. It's still a largely amorphous vision, but one, activists point out, with seeds in the already-existing culture within heavily profiled minority communities of avoiding calls to the police at all costs.
It's also a vision now supported by the Democratic Socialists of America, who backed a resolution calling for the abolition of police and prisons at their national convention last August. The calls to abolish Immigration and Customs Enforcement, one of the centerpieces of Alexandria Ocasio-Cortez's congressional campaign and now the subject of legislation in Congress is best understood not only as a proposal shaped by our current immigration policy debate, but a rhetorical and ideological cousin of the left's interest in rethinking policing completely. It's not at all clear how far that push will go or how many Americans will sign on to the project. But the status quo—in Chicago and too many other cities besides—is no longer tenable.
Update, July 16, 2018: This sentence has been updated to clarify the status of Chicago's consent decree with the state of Illinois.
One more thing
Since Donald Trump entered the White House, Slate has stepped up our politics coverage—bringing you news and opinion from writers like Jamelle Bouie and Dahlia Lithwick. We're covering the administration's immigration crackdown, the rollback of environmental protections, the efforts of the resistance, and more.
Our work is more urgent than ever and is reaching more readers—but online advertising revenues don't fully cover our costs, and we don't have print subscribers to help keep us afloat. So we need your help.
If you think Slate's work matters, become a Slate Plus member. You'll get exclusive members-only content and a suite of great benefits—and you'll help secure Slate's future.  Read more here: https://slate.com/news-and-politics/2018/07/harith-augustus-shooting-chicagos-abusive-police-state-is-untenable.html
---