Never Again Action pro­test­ers said a Wyatt Detention Facility offi­cer drove into their group, injur­ing sev­er­al peo­ple.
A cor­rec­tion­al offi­cer at an immi­grant deten­tion cen­ter in Rhode Island drove a pick­up truck into a crowd of pro­test­ers late Wednesday night, injur­ing sev­er­al peo­ple, the pro­test­ers said.
Videos of the con­fronta­tion show the truck turn­ing toward a line of seat­ed pro­test­ers who were block­ing the entrance to a park­ing lot at the Donald W. Wyatt Detention Facility in Central Falls. People imme­di­ate­ly jumped up, shout­ing while the dri­ver honked his horn.

The truck paused for a moment as the pro­test­ers gath­ered around ― and then the vehi­cle tried to dri­ve straight through the crowd before stop­ping again. Minutes lat­er, addi­tion­al offi­cers arrived and used pep­per spray on the pro­test­ers, clear­ing enough space for the truck to pass through.

Never Again Action @NeverAgainActn·17hThis is the line of peo­ple that an ICE Detention Center guard tried to dri­ve through with his truck. We are still try­ing to fig­ure out what all the injuries are
And the rest of us are try­ing to get the pep­per spray out of our eyes.406791.4K Never Again Action @NeverAgainActn·17hCORRECTION: It was oth­er Wyatt Detention Center guards who pep­per-sprayed us, not the Rhode Island State Police. The police just stood by and did noth­ing as we were run over and then sprayed by deten­tion cen­ter guards. We are #JewsAgainstICE and we will not let vio­lence stop us.479542.1K Never Again Action @NeverAgainActn·16hBREAKING: Tonight we expe­ri­enced a tiny sam­ple of the vio­lence ICE uses on our immi­grant neigh­bors every day. An ICE guard drove his truck into our peace­ful #JewsAgainstICE protest, then oth­er guards came out and pep­per sprayed the crowd. We'll be back. http://​NeverAgainAction​.com1:0759.1K views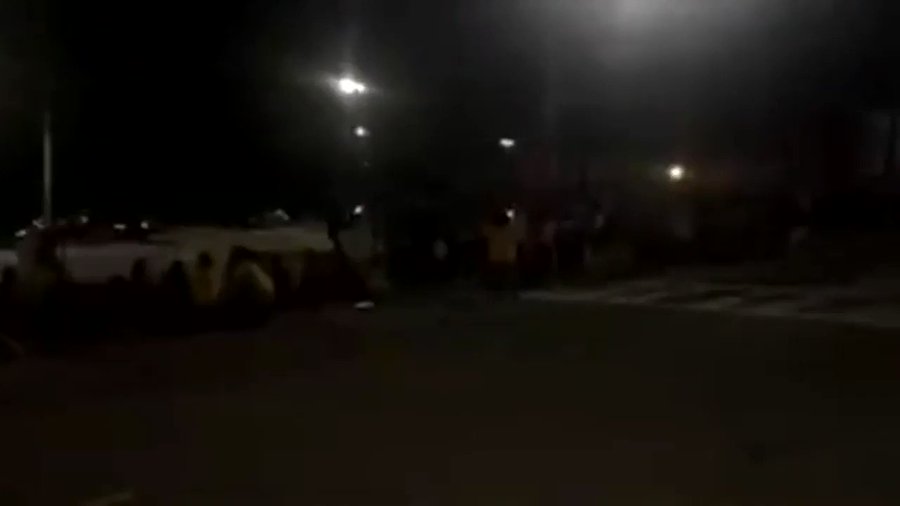 621.4K2.4K Never Again Action @NeverAgainActnReplying to @NeverAgainActn@amornetworkand 3 oth­ersBREAKING: Here is HD video of an ICE guard dri­ving his truck into us as we sat peace­ful­ly block­ing the Wyatt Detention Center. We're putting our bod­ies on the line because we see the camps and the roundups. We've learned from our ances­tors: NEVER AGAIN FOR ANYONE.
Natalie Lerner, a 23-year-old Jewish activist from Providence, Rhode Island, told HuffPost that she was in the line of the vehi­cle when it first approached. "I was kneel­ing down to talk to one of the oth­er peo­ple who was sit­ting to get arrest­ed and he got this look of fear," Lerner recalled. "I turned around and this car was right behind me, com­ing right toward me." At least five peo­ple were treat­ed at a hos­pi­tal for minor injuries sus­tained dur­ing the con­fronta­tion and the ensu­ing scram­ble, Lerner said. An old­er woman was pep­per-sprayed at "incred­i­bly close range," she said.
Protesters said the per­son dri­ving the pick­up truck was a cor­rec­tion­al offi­cer employed by the Wyatt Detention Facility. Lerner said she and oth­er pro­test­ers were fright­ened ― and angered ― by offi­cers' actions dur­ing the inci­dent. "If this is how you're treat­ing us, a group of most­ly white, most­ly cit­i­zens who aren't in prison, who are out in the open, how are you treat­ing peo­ple on the inside?" she asked. HuffPost has reached out to the Wyatt Detention Facility, the Central Falls Police Department and ICE for com­ment.
Wednesday's protest was part of Never Again Action, a move­ment by young, pro­gres­sive Jews who believe say­ing "Never again" to the hor­rors of the Holocaust means speak­ing up about the U.S. government's cur­rent treat­ment of migrants. Since ear­ly July, these activists have been orga­niz­ing protests at U.S. Immigration and Customs Enforcement cen­ters across the coun­try, includ­ing in Boston, Los Angeles, Philadelphia and San Francisco.
The activists are call­ing on Congress to shut down ICE, close the deten­tion cen­ters, and offer "free­dom and per­ma­nent pro­tec­tion for all undoc­u­ment­ed immi­grants, refugees and asy­lum seek­ers." The Wyatt Detention Facility is a "pub­licly owned and pri­vate­ly oper­at­ed" cor­rec­tion­al facil­i­ty, accord­ing to its web­site. It began hous­ing ICE detainees in March, 10 years after a migrant's death there put a tem­po­rary end to the prac­tice. Eighteen peo­ple were arrest­ed dur­ing an ear­li­er Never Again Action protest at the facil­i­ty on July 2.
Lerner said that hun­dreds of pro­test­ers, some with Never Again Action and oth­ers from local immi­gra­tion advo­ca­cy groups, gath­ered at the deten­tion cen­ter on Wednesday. They tried to deliv­er a let­ter to the war­den demand­ing more trans­paren­cy at the facil­i­ty. When no one came out to meet with them, Lerner said the group decid­ed to "shut down Wyatt," first by block­ing the entrance to the facil­i­ty and then by block­ing the staff park­ing lot.
"We were send­ing the mes­sage that if folks in immi­grant deten­tion can't get home to see their fam­i­lies, peo­ple who are aid­ing and abet­ting that can't go home to see their fam­i­lies," she said.
The indi­vid­u­als who sat on the ground at the park­ing lot entrance had will­ing­ly signed up to risk arrest dur­ing an act of civ­il dis­obe­di­ence, accord­ing to Lerner, who helped lead train­ing for the demon­stra­tion. She said pro­test­ers were giv­en guid­ance on what to do if police used force dur­ing an arrest and how to deesca­late the sit­u­a­tion if a bystander tried to start a fight. People who weren't will­ing to risk arrest were told to stay back and not inter­act with police. But Lerner said none of the activists expect­ed they would be fac­ing down a mov­ing vehi­cle. "Having some­thing like a car bar­rel­ing towards you and not stop­ping when you're peace­ful­ly protest­ing is a total­ly ter­ri­fy­ing expe­ri­ence," Lerner said. "We were not antic­i­pat­ing real­ly any­body, but espe­cial­ly an employ­ee of the Wyatt, to dri­ve a car through the protest." Rhode Island Gov. Gina Raimondo (D) expressed "out­rage" about the inci­dent on Thursday. She said Rhode Island's state police will inves­ti­gate the inci­dent. "President Trump's immi­gra­tion poli­cies are immoral, and these Rhode Islanders were exer­cis­ing their con­sti­tu­tion­al right to protest,'' the gov­er­nor said.
Gina Raimondo@GovRaimondoI share the out­rage Rhode Islanders are feel­ing about the inci­dent depict­ed in the video at the Wyatt Detention Center. Our state and our nation were built on the idea that every­one has a right to express their opin­ion pub­licly and peace­ful­ly.
The Rhode Island attor­ney gen­er­al's office has also said it is inves­ti­gat­ing the inci­dent. "Peaceful protest is a fun­da­men­tal right of all Americans; it is unfor­tu­nate last night's sit­u­a­tion unfold­ed as it did. We urge all to exer­cise restraint as our inves­ti­ga­tion pro­ceeds," the office said in a state­ment on Thursday. The con­fronta­tion has left Never Again Action even more deter­mined to stand up against ICE, Lerner said. "It was total­ly unac­cept­able what hap­pened, and it's pret­ty clear to me that we will con­tin­ue protest­ing Wyatt and con­tin­ue protest­ing what ICE is doing here in Rhode Island and beyond," Lerner said. https://​www​.huff​post​.com/​e​n​t​r​y​/​p​i​c​k​u​p​-​t​r​u​c​k​-​n​e​v​e​r​-​a​g​a​i​n​-​i​c​e​-​r​h​o​d​e​-​i​s​l​a​n​d​_​n​_​5​d​5​5​7​4​f​d​e​4​b​0​e​b​8​7​5​f​2​0​4​4f0