Patriot Prayer's leader is half-Japanese. Black and brown faces march with the Proud Boys. Is the future of hate multicultural?
PORTLAND, Oregon—Outfitted in a flak jacket and fighting gloves, Enrique Tarrio was one of dozens of black, Latino, and Asian men who marched alongside white supremacists in Portland on Aug. 4.
Tarrio, who identifies as Afro-Cuban, is president of the Miami chapter of the Proud Boys, who call themselves "Western chauvinists," and "regularly spout white-nationalist memes and maintain affiliations with known extremists," according to the Southern Poverty Law Center. Last month, prior to the Patriot Prayer rally he attended in Portland, Tarrio was pictured with other far-right activists making a hand sign that started as a hoax but has become an in-joke. Last year, Tarrio said traveled to Charlottesville, Virginia, for the Unite the Rightrally that ended with a neo-Nazi allegedly killing an anti-fascist protester. (The Proud Boys said any members who went to the event were kicked out.)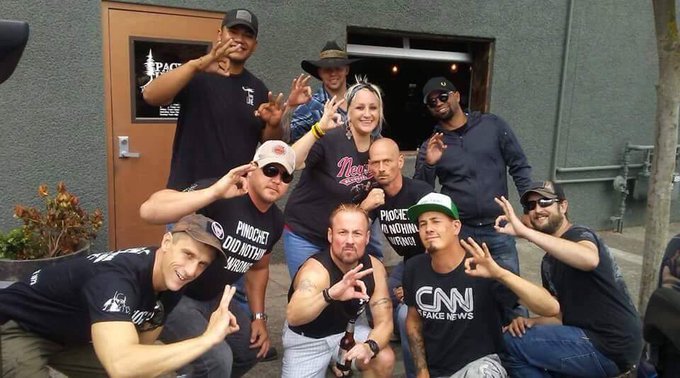 Patriot Prayer + Proud Boys in Vancouver night b4 Aug 4 Portland rally many fear will end in violence. Tusitala "Tiny" Toese and others make an apparent "White Power" hand gesture. T-shirts read, "Pinochet Did Nothing Wrong."
"A lot of these young guys, especially from the software world, who are being sucked into white nationalism, start out being worked up about Ayn Rand in high school."— David Neiwert
Tarrio and other people of color at the far-right rallies claim institutional racism no longer exists in America. In their view, blacks are to blame for any lingering inequality because they are dependent on welfare, lack strong leadership, and believe Democrats who tell them "You're always going to be broke. You're not going to make it in society because of institutional racism," as one mixed-race man put it.
If racism doesn't exist, I ask Tarrio, how would he explain the disproportionate killing of young black men by police? "Hip-hop culture," he says. It "glorifies that lifestyle… of selling drugs, shooting up." Because of that, "Obviously you're going to have higher crime rates. Obviously you're going to have more police presence and more confrontations." (Police kill black males aged 15 to 34 at nine times the rate of the general population.)
Elysa Sanchez, who is black and Puerto Rican, attended the "Liberty or Death Rally Against Left-Wing Violence" in Seattle on Aug. 18, joining about 20 militiamen open-carrying handguns and semi-automatic rifles.
Sanchez says, "If black people are committing more murders, more robberies, more thefts, more violent crime, that's why you would see more black men having encounters with the police."
Also in Seattle, Franky Price, who said he is  "black and white,"wore a T-shirt reading, "It's okay to be white." Read more here: https://www.thedailybeast.com/why-young-men-of-color-are-joining-white-supremacist-groups